X-treme
Trencher
Attachment
Our X-treme Skid Steer Trencher is ideal for trenching water lines and cable lines in a timely manner. With a dirt chain, 1/2 rock & frost or full rock & frost we are sure to have a chain to fit your trenching needs.
We offer two arm sizes for different digging depths. Different chain widths, 36″ or 48″ lengths. Our X-treme Skid Steer Trenchers come with a full rock guard. We also offer a 15-20 GPM flow or a 20-30 GPM flow with a 15″ auger. Will This Fit My Skid Steer?
Unsure of what your skid steer hydraulic specs are? Click to look up your skid steer model and find your specs!
CLICK HERE >
| | |
| --- | --- |
| Product Family | X-treme Skidsteer Trencher |
| Product | XTRENCH36 |
| Description | TRENCHER W/O CHAIN, 36" |
| Chain Width | 36" |
| Chain Types | Dirt, 1/2" rock & frost, full rock & frost |
| Flow Requirement (GPM) | 15-20 GPM or 20-30 GPM |
| Weight | 668 |
| Notes | 15" auger |
Diagram: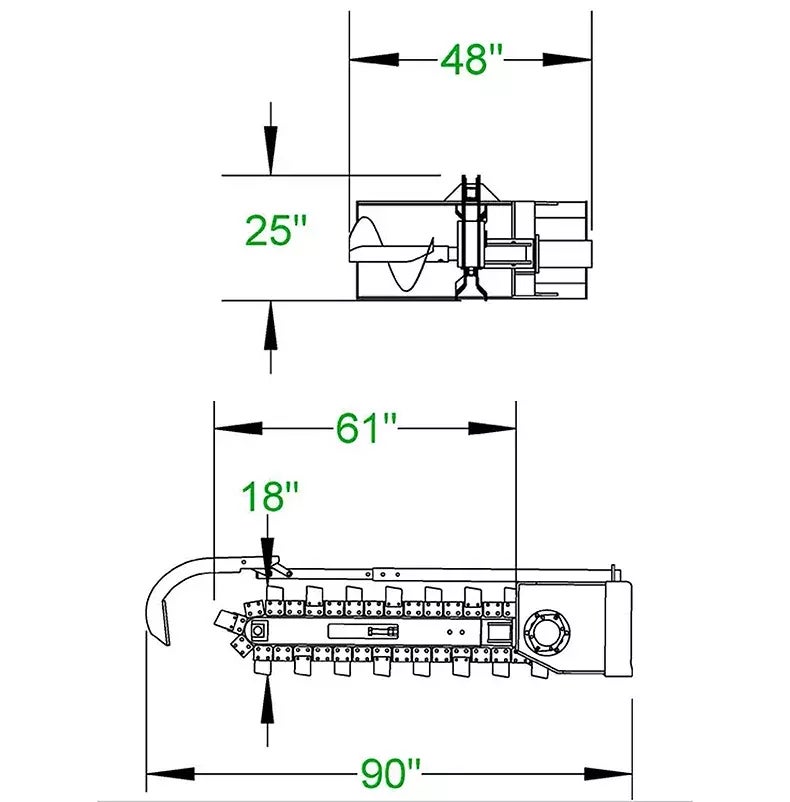 | | |
| --- | --- |
| Product Family | X-treme Skidsteer Trencher |
| Product | XTRENCH48 |
| Description | TRENCHER W/O CHAIN, 48" |
| Chain Width | 48" |
| Chain Types | Dirt, 1/2" rock & frost, full rock & frost |
| Flow Requirement (GPM) | 15-20 GPM or 20-30 GPM |
| Weight | 686 |
| Notes | 15" auger |
Diagram: